Rydin is committed to offering our customers specialized services at their request.
Below are some examples of these services, but should you have a special request, please contact us for additional information. We love helping our customers in any way possible!
Liner Instructions allow you to communicate your application instructions or directional information on the removable liner portion of your decal.
Instructions on the back of a decal can be added to allow you to communicate information such as emergency numbers, that will remain in the vehicle for the duration of the permits use.
Sequential Numbering can be applied to most any product. Depending on the choice of materials and the production method, sequential numbering can also have a variety of styles and variations applied. Talk to your sales rep for more information.
Barcoding can be added to most any decal or hang tag to increase security and identify vehicles. Various encoding languages are available.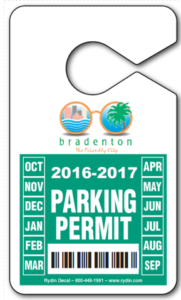 Polybagging simplifies your distribution process. Decals are inserted into clear plastic bags and delivered in roll form. Permits are pulled from the box in sequential order and easily removed at the perforations.
Glassine Bags are very beneficial when distributing permits. Your product is placed in separate transparent bags that are open on one end. The bags are not on a continuous roll.
Piggyback Labeling is a service where labels are applied to the outside of the polybags. They can include the same sequential number as the contents of the polybag. A corresponding barcode with a human-readable number is available to make scanning the label at the point-of-sale a breeze.
Adhesive Strips can be added by placing a two-sided tape to a finished product. The tape usually has permanent adhesive on one side and removable liner on the other. This tape is used for temporary permits and law enforcement tickets.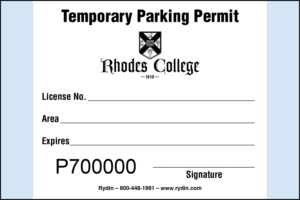 Permit books can be produced that are either adhesive bound or stapled. This can be customized based on your needs.
Hole punching is the process of creating round holes to a finished product for applying suction cups, elastic string loops or pins.
Shrink-wrapping is available for most products. This can provide a layer of protection and a cost-effective way to create convenient-sized packs, allowing for easier handling and distribution of the printed pieces.
Stapling can be used for the gathering and fastening together of separate sheets. Stapling can be as simple as placing a single staple through the corner of a set of documents or can refer to the creation of small durable booklets.
String Loops are made of an elastic string. They can be made in various lengths and are attached to individual pieces. This is a popular feature for event credentials or product tags.
Padding consists of applying a flexible adhesive along one edge of a collated product. The adhesive secures the sheets as a unit, but allows the topmost sheet to be easily removed as needed. In most cases, padded sheets incorporate a chipboard backer for rigidity.
Custom Packaging is a packing service specialized for your needs. If you have a custom packaging request, please work with a Sales Representative. We are happy to accommodate the requests of our customers.
Do you have a special request regarding the production, handling, or shipping of your product? We are happy to help. Please contact our Sales Team with any request, and we will do our absolute best to make it a reality!
We'd Love to Hear From You!